Recently, VDL launched a collection with Pantone, which they shared, is "the most wholesome beauty & colour solution for year 2016". One of the items in their collection, are the lovely VDL Expert Colour Lip Cube Tranquility, which features 3 colours.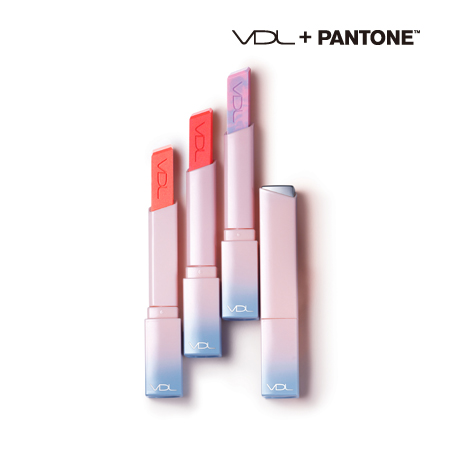 Each of the lippie consist of 2 colours, which marble to form one lipstick. The ombre aspect of the lippie is can give a very special and pretty effect on lips.
For example, is the Wellness lipstick from this series. Its main colour seems to be pinkish red, but they also infused a lovely peach colour within the lipstick, thus giving it a pretty pinkish red + peach effect.

The image above shares that there are 3 ways to use the lipsticks.
First image (from left) shows that you can apply the lipstick using a 85 degree angle, from the top down, following the lip line. This will give a balanced symmetry to your lip.
Second image shows that you can apply the lipstick using a 95 degree angle, from the farthest point of your lips, stroke down first and then lightly touch the upper lip with your bottom lip so that the contour will be formed. It will give it a natural look.
Third method, use the cube face and apply carefully from the centre of the lip, sideways.

Product Name:
VDL Expert Colour Lip Cube

Type:

Price:

Where to buy:
Online stores, as it is currently not available in Singapore
For me, I got the Serenity (01), which is the tinted lip glow bar lippie of the series.
I did not like how the turning of the lipstick felt unstable, though. It also felt very plasticky.
Check out the marbling! It's really super pretty - in blue and pink! And when you apply it, you get a lavender-type colour, which enhances your natural lip colour.
Before application (natural lip colour):
After application:
There's a slight colour correction there, as you can see. For those who has more pale type lips - you can consider this lovely lip balm to help correct your colours, so your lips don't look so washed out.
One thing I really liked about this was that it was really moisturising but not sticky nor overly oily. According to VDL, their lipsticks incorporate the Advanced Full Moist Formula. After trying this balm out, I think I will get the other colours too!